In the ever-evolving landscape of drone technology and airspace management, Aloft Technologies, Inc. (Aloft) has steadfastly been at the forefront, spearheading innovations and setting unparalleled standards in the industry. Today, we are ecstatic to celebrate not one but two monumental milestones that mark our journey so far.
As we cross 1 million LAANC airspace authorizations and 30 million B4UFLY airspace safety searches, we find this an opportune moment to delve deep into the intricate dynamics of LAANC analysis and share the latest updates. Ultimately, you – the mass Aloft network of recreational, commercial, government, and public safety pilots – that use Aloft daily led us to achieve these historic milestones. So, let's embark on this reflective journey!
Milestone Celebration: 1 Million LAANC & 30 Million B4UFLY Airspace Safety Searches
From our humble beginnings in 2015, we've always envisioned a sky that's safer and more accessible for drone enthusiasts and professionals alike. Today, that vision is embodied in the mammoth 1 million LAANC airspace authorizations and 30 million B4UFLY safety search milestones we have achieved. This accomplishment signifies our growth and represents the burgeoning interest and reliance on drone technology across major commercial sectors and industries.
To date, the FAA has processed 1.6 million total LAANC requests, so the crossing of 1 million on the Aloft platform is noteworthy, and we can't thank our loyal and committed pilots enough.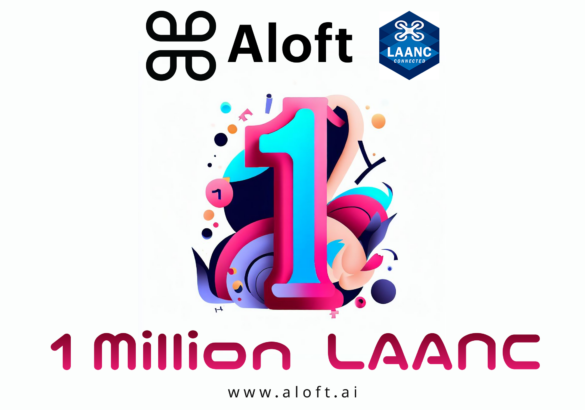 LAANC Analysis: A Focus on Growth Trends for Commercial and Recreational Operations
The growth trajectory that has led us to this moment has been nothing short of remarkable. Diving into the LAANC analysis, we observe a significant uptick in commercial operations on Aloft – both Automatic Approvals (AA) and Further Coordination (FC) requests.
When looking at Part 107 authorizations, year-to-date (Jan-Aug 2023 versus Jan-Aug-2022), the trends are mixed across the whole of LAANC and up on the Aloft platform:
— Part 107 AA authorizations are up 19% across LAANC and 35% on Aloft.
— Part 107 FC authorization requests are down 4% across LAANC and up 16% on Aloft.
Compared to Part 107 commercial pilots, recreational use of LAANC continues to decrease. Regarding 44809 LAANC authorizations, year-to-date (Jan-Aug 2023 versus Jan-Aug-2022), usage is down 20% across all of LAANC and 11% on Aloft.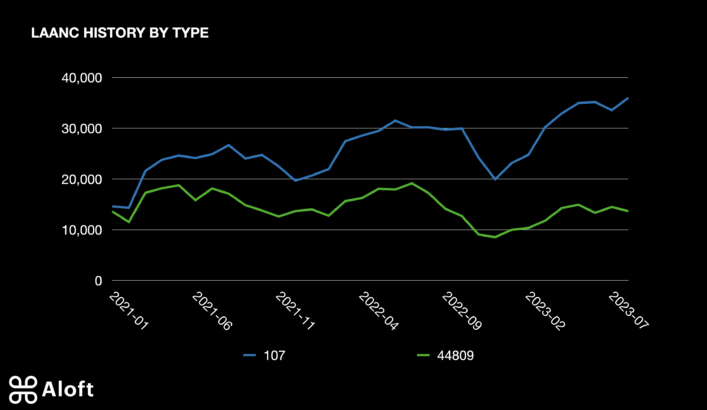 Recreational drone pilots remain one of the largest representatives of airspace users, so this trend will be important to watch going forward.
Update on Further Coordination LAANC Trends
As we move forward, keeping a keen eye on the emerging trends in FC within the LAANC is imperative.
Diving further into FC, there has been a lot of focus and attention on FC's utility and air traffic personnel's role in reviewing and responding to these manual requests. When we reported on the state of LAANC last year, we noted that over 200 airports had a 0% approval rate. Today, the number of non-responsive airports is down to 131. While some heavily trafficked Class B airports like San Francisco or Denver have started to approve a few FC requests, there are many high-performing airports, such as Austin, which approves over 80% of the FC requests it receives.
The FAA continues to take steps to help give airports the tools, notice, and technology they need to service these requests. In just the last 60 days, we've seen the approval rate increase to 67% from a historic average of 45%.
The Future of Aloft's UTM Mission
Our efforts aim to facilitate a seamless flow of information and airspace coordination, fostering an environment where safety and compliance are paramount. In the coming months, we plan further to enhance the capabilities of our patented dynamic airspace platform to accommodate the burgeoning needs of the industry and to stay ahead of the curve in offering solutions that are not only innovative but also practical, user-friendly, and overall increase the safety of the NAS.
In conclusion, as we celebrate these significant milestones, we reaffirm our commitment to pushing the boundaries of what's possible in the drone airspace management domain. Stay tuned for more updates as we continue to soar to new heights for the benefit of all our stakeholders – from the recreational pilot conducting her first flight to our AAM partners embarking on new modes of transportation and delivery.
---

Jon is the Founder & CEO of Aloft, the market leader in drone airspace systems & UTM technologies. Aloft's patented technology is used in today's leading recreational, enterprise, and government drone applications.
Jon is a certified commercial drone pilot as part of FAA Part 107, the founder of the Drone Advisory Council, and is an active member of other industry groups, including GUTMA, NBAA Emerging Tech, the FAA's Advanced Aviation Advisory Committee (AAAC) and working groups, and is a founding member and data working group chair of the FAA Drone Safety Team. He's a self-taught iOS developer, writes about drone topics for technology news outlets including VentureBeat, TechCrunch, and Forbes, and regularly speaks at industry events such as Commercial UAV Expo, 2B Ahead Future Congress, and DJI AirWorks. Jon graduated from TCU with a major in finance and received his MBA from Thunderbird Global School of Management (ASU). Jon has served on multiple FAA Advisory and Rulemaking Committees (ARCs), including drone detection, counter UAS, and Beyond Visual Line of Site (BVLOS).
Sign-up for our newsletter
You may be interested also in