Using the Aloft (formerly Kittyhawk) Air Control Platform with the DoD's Blue sUAS Systems
---
The release of the DOD's Defense Innovation Unit list of the five tested, approved, and formally available for government use drones made headlines earlier this year. The list includes the X2D by Skydio, the ANAFI-USA-Gov/mil by Parrot, the Golden Eagle by Teal, ION M440 C by Altavian, and Vesper by Vantage Robotics. All systems were designed to fit specific criteria to meet the needs of government applications. As always our focus here at Aloft is to provide a secure, hardware-agnostic platform for our customers to continue to innovate using drones. Prior to the integration of these secure hardware systems, our government entity customers have been mitigating security concerns with other hardware by operating using our secure SDK integrations. We have seen a growing interest from government and enterprises to adopt new aircraft as they diversify if not transition their fleets "to the blues". Now, let's dive into more about the specifications and capabilities of the five blues and how they function with the Aloft platform.
What are the "Blues"?
The Blue sUAS project developed trusted small uncrewed aerial systems (sUAS) for the broader Department of Defense and Federal Government partners and is also available to National Guard, First Responders, State and Local government across the country. This effort builds upon the U.S. Army's sUAS program of record, Short Range Reconnaissance (SRR), for an inexpensive, rucksack portable, vertical take-off, and landing sUAS. Blue sUAS systems share the SRR air vehicles' capabilities but integrate a vendor-provided ground control system.

The "Blues" System Specifications and Capabilities
Each of the five sUAS options are certified to fly in DoD and national airspace and meet the criteria required for U.S. Government procurement. The table below provides basic information about all five drones' capabilities. Each system has a variation of the below specifications and additional attributes to offer DoD and interagency customers.
| Specifications | Capabilities |
| --- | --- |
| Operational Range | 3+ kilometers |
| Flight Endurance | 30+ minutes |
| Environmental Rating | Flies through dust and rain (IP53) |
| Assembly Time | 2 minutes or less |
| Take-off Weight | Less than 3lbs |
| Payload | High Resolutions Day/Night Stabilized Optics |
| Architecture | Built around an open source protocol |
Why do the "Blues" matter?
Earlier this year the US Department of Defense wrapped up a program designed to find more secure drones for government use. This program kicked off in November 2018. After working with the selected five companies for 18 months — helping them tweak their airframes, weed out potential foreign components, perform cybersecurity penetration testing, and standardize on communication protocols and controls — and certifying each one, the DIU believes these specific drones are actually ready for government work.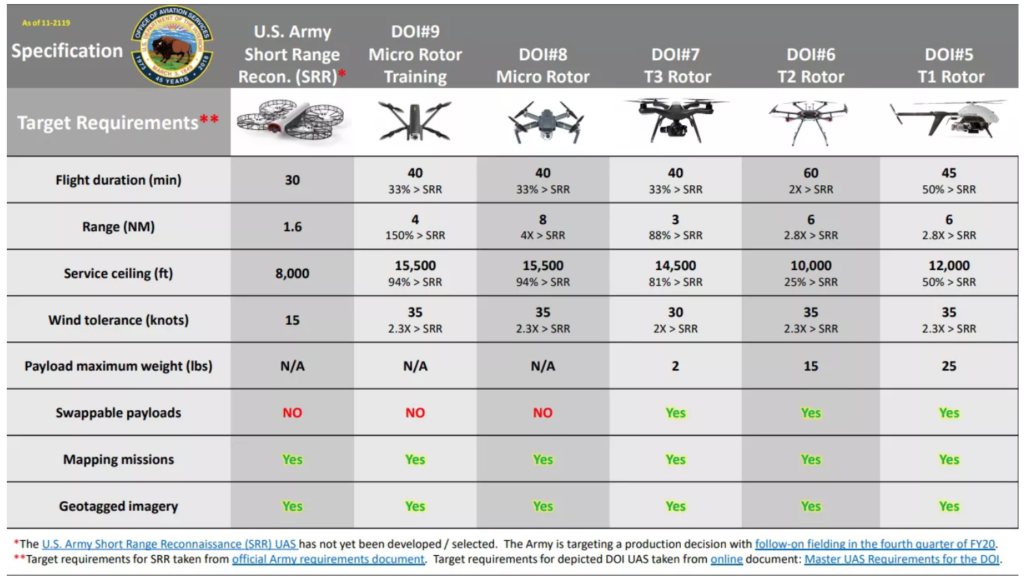 The Five "Blues" System Breakdown
1. ANAFI-USA (Parrot)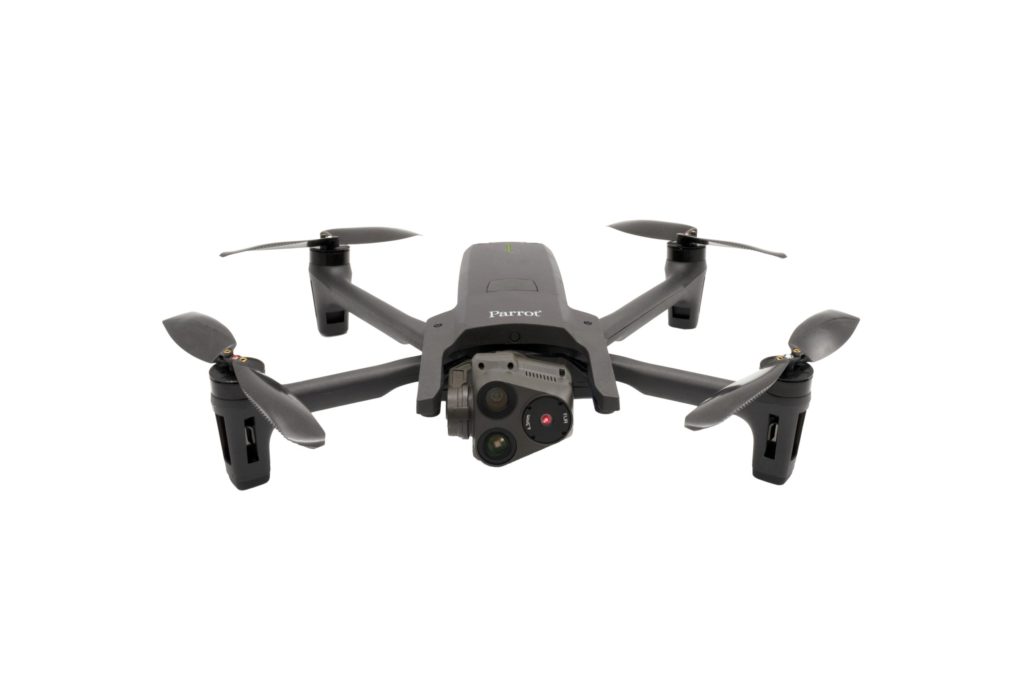 The best alternative to DJI M2ED.
Parrot's ANAFI-USA is an ideal solution for use cases and pilots looking for manual flight controls and automated flight planning. Flyability and control are solid in a lightweight and small form factor.
Benefits:
Native pilot apps with secure mobile SDK integrations (iOS and Android)

Flies indoors and out (without GPS synchronization)

Two sensors with 4k and 32x zoom

Thermal camera capabilities with Flir sensor

Free of fly zone and geofencing restrictions
Limitations:
General availability (at the time of publication)
Aloft has integrated with Parrot's SDK to enable secure inflight and streaming capabilities with real-time telemetry, automated logging, fleet tracking, and automated mission planning.
2. Golden Eagle (Teal)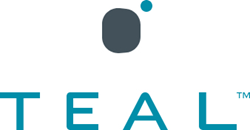 Full-integrated platform.
Teal's Golden Eagle drone and ground control station presents an interesting alternative to using separate mobile devices. 
Benefits:
Ruggedized handheld controller (compatible with any MAVLink aircraft)

Thermal camera capabilities 

Low acoustic and visual signature

AI detection of people/vehicles

GPS-denied operation

Aircraft is compatible with other ground stations
The ground station has built-in LTE/WiFi/BT
Offers an SDK and capability for automated mission planning
Limitations:
General availability (at the time of publication)
Aloft supports fleet tracking and manual flight logging with the Golden Eagle.
3. ION M440 C (Altavian)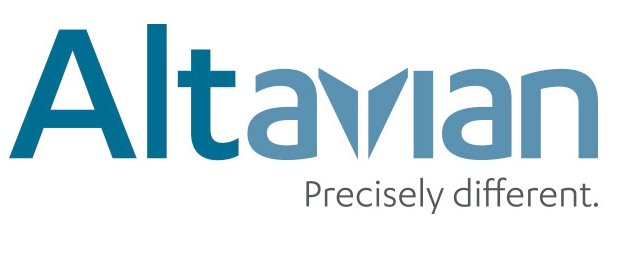 The Ion M440 is a tactical quadcopter built for short-range reconnaissance in the tactical, obstacle-rich environment.
Benefits:
35 minute flight time

GPS-denied capabilities 

Nighttime collision avoidance and twilight to nighttime operations without the need to swap cameras

Thermal camera and t

wo 720P HD/EO Imagers for X40 zoom capabilities

AI object identification capabilities

AES-256 encryption to secure all communications, photo, video, and telemetry data collected by the aircraft

Compact, foldable design

Modular, open system approach to UAS design

TOGA, the Army enterprise H-GCS can be used as a GCS to operate the M440 (compatible with any MAVLink aircraft)
Limitations:
Requires use of Altavian ground control station

Altavian Ground Control Station only works with Samsung T9 tactical Android phone
4. Vesper (Vantage Robotics)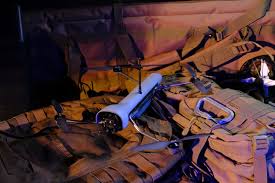 Vesper's modular design and uncompromising build quality meets the needs of a range of mission-critical operations at a moment's notice.
Benefits:
50 minute flight time (Recon Rotor Set) / 32 minute flight time (Shrouded Rotor Set)

Inaudible at 50 m

2.2 lb packed weight in IP 67 waterproof and crushproof case

AES-256 encryption, secure boot, NDAA compliant

Two low light EO + IR, 320p thermal sensors

18x zoom capable of reading a license plate at 60 m

Compact, foldable airframe

Redundant GNS, GNSS, VIO, and optical flow for indoor and outdoor operations

Shrouded Rotor Set for indoor and flight near people and Reconnaissance Rotor Set for endurance, stealth, and speed
Limitations:
Requires use of Vantage ground control station

No remote data transmission

High-speed data transfer to GCS through Wi-Fi

Downward facing sonar only for obstacle avoidance (front and rear avoidance available as a future software update)
5. X2D (Skydio)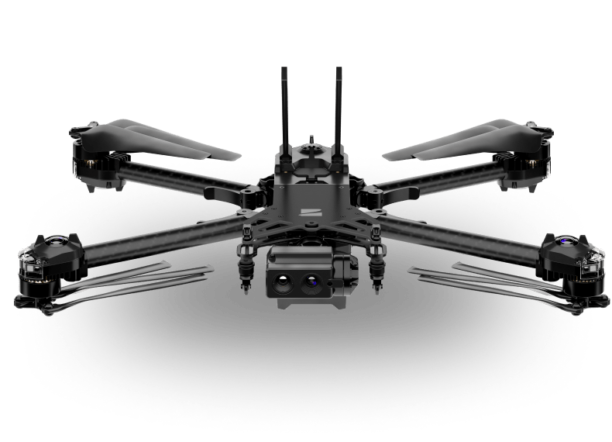 Skydio's X2D pairs breakthrough autonomy software with a ruggedized airframe with folding arms for easy "pack and go" transportation. Built to exceed the Short-Range Reconnaissance (SRR) requirements for the U.S. Army, X2D helps military operators and federal agencies perform reconnaissance, search and rescue, and security patrol missions.
Benefits:
35 minute flight time

Rugged, foldable airframe

Built-in lights, precision GPS, and inertial navigation for precise flight with obstacle avoidance disabled for night operations

Thermal camera capabilities with 8X zoom

4K HDR color imager with 16X zoom

360 live view with up to 100x zoom

Built-in touchscreen, glove-compatible controls, and a new wireless system to extend controller range up to a 6-mile range

Onboard AI to object tracking of people and motor vehicles with up to 10 simultaneous objects of interest

Omnidirectional and above/below for obstacle avoidance coverage

Day or night operations

AES-256 encryption

Encrypted SD cards with physical Yubikey

AI-powered

Skydio 3D and House Scan™
Limitations:
General availability (at the time of publication)

Requires use of Skydio ground control station

Skydio QGroundControl app only compatible with Android 9 operating system
Systems Summary
| Name | Mobile SDK | Automated Mission Planning | Stream in Aloft | Manage/Track in Aloft |
| --- | --- | --- | --- | --- |
| X2D (Skydio) | N/A | N/A | Yes | Manual |
| Vesper (Vantage Robotics) | N/A | N/A | Yes | Manual |
| ION M440 C (Altavian) | Android Only | N/A | No | Manual |
| Golden Eagle (Teal) | N/A | No | No | Manual |
| ANAFI-USA (Parrot) | Yes (Android & iOS) | Yes | Yes | Automated |
Providing first-class security for our enterprise and government customers is always at the forefront of our minds here at Aloft. With these five new hardware options, we are excited to continue developing secure software for fleet management and airspace awareness. As aircraft capabilities expand and grow, our goal is to offer a single fleet and airspace management system that gives you the best in class for both hardware and software. If you have any questions or would like to discuss more about our platform's capabilities for enterprise and government applications, please reach out at jon@aloft.ai
---

Jon is the Founder & CEO of Aloft, the market leader in drone airspace systems & UTM technologies. Aloft's patented technology is used in today's leading recreational, enterprise, and government drone applications.
Jon is a certified commercial drone pilot as part of FAA Part 107, serves on the board of the Commercial Drone Alliance, and is an active member of other industry groups, including GUTMA, NBAA Emerging Tech, the FAA's Advanced Aviation Advisory Committee (AAAC) and working groups, and is a founding member and data working group chair of the FAA UAS Safety Team. He's a self-taught iOS developer, writes about drone topics for technology news outlets including VentureBeat, TechCrunch, and Forbes, and regularly speaks at industry events such as Commercial UAV Expo, 2B Ahead Future Congress, and DJI AirWorks. Jon graduated from TCU with a major in finance and received his MBA from Thunderbird Global School of Management (ASU). Jon has served on multiple FAA Advisory and Rulemaking Committees (ARCs), including drone detection, counter UAS, and Beyond Visual Line of Site (BVLOS).
Sign-up for our newsletter
You may be interested also in