The FAA and Dept. of Transportation recently published a Notice of Proposed Rulemaking (NPRM) for Remote ID for drones. Publication of an NPRM is an important step in the rulemaking process – where laws passed by Congress become rules to be enforced by the FAA. This particular NPRM for Remote ID is important because it is a roadmap of how the FAA envisions implementing Remote ID and how Remote ID will be used by stakeholders across the commercial drone industry.
Remote ID is an important layer of technology utilizing hardware and software solutions that will enable drones to be identified while operating. Remote ID is critical because identifying drones is necessary to enable advanced operations. Additionally, knowing that drone operators can be held accountable for noncompliant operations will go a long way towards public acceptance of drones.
One of the most important components of the NPRM describes the two ways of remotely identifying drones, to be known as Standard Remote ID and Limited Remote ID, and how drones incapable of Remote ID will operate in areas known as FAA-Recognized Identification Areas (FRIAs). We've created the graphic below to illustrate the difference between the three ways and we discuss more below.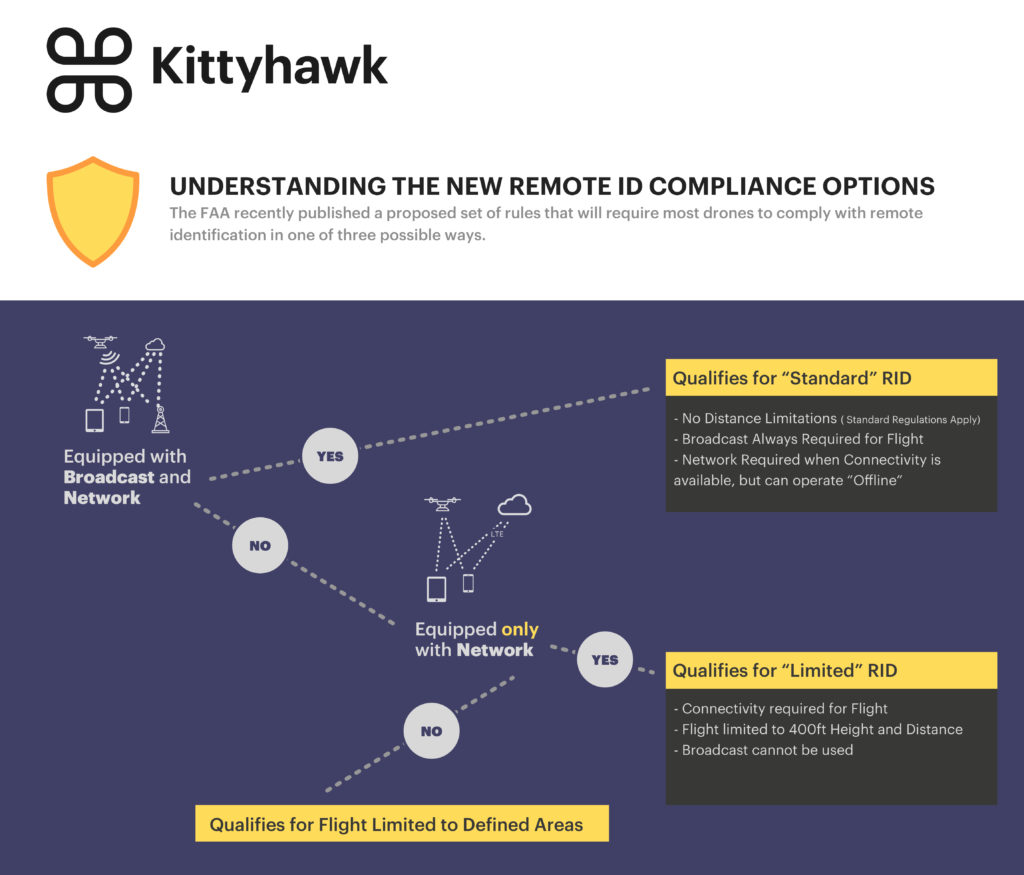 Highlights from the NPRM
1. It could be 2024 or 2025 before using Remote ID UAS and services will be mandatory. The rulemaking process can regularly take 12-18 months to produce a final rule. NPRM proposes requiring full compliance with the Remote ID rules within 3 years of the effective date of the final rule. A very likely scenario would be a final rule in 2021 with a 3 year period to achieve full compliance, with everyone operating under the same rules by 2024 or 2025.
2. Any drone required to be registered will have to have Remote ID. Any UAS used for commercial operations under Part 107 and any recreational UAVs 0.55 pounds and over will require Remote ID. The FAA anticipates by then that every commercially available UAS will be capable of standard or limited remote identification.
3. The NPRM proposes three ways of remotely identifying: standard, limited, or operating in a FRIA, but Standard Remote ID will probably be necessary for UAS performing many enterprise jobs. Limited Remote ID would require the use of sUAS designed to remain within line of sight and within 400 feet of the operator using technology like geofencing or power limitations. If you want to fly more than 400 feet away from the operator or perform advanced operations like those beyond visual line of sight (BVLOS) or over people, you will be using Standard Remote ID UAS.
4. The NPRM proposes that Standard Remote ID UAS use both network and broadcast Remote ID, while Limited Remote ID UAS use only network. Network-based Remote ID provides the better experience because it allows for easier data sharing and doesn't require extra hardware, but broadcast Remote ID provides an important redundancy and safety. (If you're new to this topic, please read page 5 of our Remote ID whitepaper for a quick explainer.)
5. The NPRM proposes that Remote ID use the FAA's LAANC program as a model. The NPRM makes it clear that the FAA sees third party companies playing a critical role in expanding services for UAS. The NPRM describes future Remote ID USS as playing a similar role as current LAANC USS. Companies would sign agreements with the FAA governing the exchange of data between the UAS operator, the Remote ID USS, and the FAA.
6. Read the Example Operating Scenarios starting on page 107 to understand how these operating rules will work in practice.
7. For privacy considerations, it is proposed that end-users have the option to use a Session ID that is randomly generated for every flight if they don't feel comfortable using the serial number of the UAS.
How You Can Participate – Comment and Take Our Survey
The NPRM was officially published on December 31, 2019, which started the usual 60 day comment period. The best comments will be actionable, respectful, specific, and focused on the affect the proposed rule would have on their operations. Comments are due March 2, 2020.
Visit the FAA/DOT webpage for the NPRM in the Federal Register to submit a comment.
Remote ID NPRM Survey
We will be using the results of this survey to inform our comments to the NPRM and create some data points on how the public feels about some parts of the NPRM.
Please reach out via Twitter (@uavpolicy) or email (andrew@www.aloft.ai) – We would be happy to talk to you about Remote ID and/or the NPRM.
---

Andrew Elefant is the Director of Legal & Policy at Aloft, an enterprise drone software company. Andrew is a licensed attorney in California. He is also an experienced Private Pilot with Instrument and Multi-Engine ratings, as well as a certificated Remote Pilot.
Sign-up for our newsletter
You may be interested also in