Type Certificates for Aircraft
Recently, the FAA announced the publication of a Notice of Policy for the type certification of certain UAS as a special class of aircraft, effective September 18, 2020. In the small UAS community, there may not be as much familiarity with the Type Certificate (TC) and the process by which one is issued. However, Type Certification will be increasingly relevant to the UAS industry as the aircraft become more capable, complex, and operate in larger numbers. 
TLDR: The FAA released a Notice of Policy, which is generally guidance to the public about how certain aircraft, in this case those involved in drone delivery, are going to be type certificated by the FAA and what regulations are likely to apply to that process. It also addressed many of the 66 comments submitted by a variety of companies, industry organizations, and individuals. 
What is Type Certification?
Type certification is the process by which the FAA certifies a "type" of aircraft or aircraft component made by a specific manufacturer. The "type" of aircraft is generally analogous to the "model" of a car. (e.g. Cessna 172, Boeing 747, Honda Civic, etc.) The type certificate says that the FAA finds that a specific design of aircraft (the "type"), to be safe when built to the manufacturer's specifications approved in the certificate. It also includes performance limitations and specifications, what components are included, and how the aircraft must be built to comply with the TC.
Type certification is a long, tedious, and expensive process which can take many years to complete. By some estimates, certification "costs around $1m for primary category aircraft, which have up to three seats, $25m for a general aviation aircraft, and hundreds of millions of dollars for a commercial aircraft." More extensive information on the type certification process can be found in FAA Order 8110.4C and in FAA material here.
What does this Notice of Policy do?
A Notice of Policy is a document "intended only to provide clarity to the public regarding existing requirements under the law or agencies policies." It is not a rule or a law, but guidance and insight into the FAA's thought process on a particular issue. 
Oftentimes, a Notice of Policy can precede rulemaking on a particular matter as more information is gathered over time from those who go through this process. Ultimately, the FAA and the organizations submitting UAS for type certification should start to coalesce around the requirements most applicable to different types of UAS. This collaboration between regulators and manufacturers will eventually make it easier to certify UAS in the future. 
If you want to get straight to the point, go to the end of the notice in the Federal Register in the section titled "Policy" and read the four paragraphs that explain the policy.
Who does this Notice of Policy apply to?
This Notice of Policy is a notice that the "FAA has determined that some UAS may be type certificated as a 'special class' of aircraft under § 21.17(b)". Specifically, the FAA will issue type certificates for UAS with no occupants (i.e. UAS for drone delivery, among other things) under the process in § 21.17(b). 
Under § 21.17(b), special classes of "nonconventional" aircraft and their components like engines or propellers that don't already have airworthiness specifications will be certificated based on the requirements for other types of aircraft that the FAA deems appropriate. Said another way, for UAS used for package delivery, the FAA will work with industry to determine what parts of the requirements meant for certifying other types of aircraft will be applicable to certifying UAS.
NOTE: This Notice of Policy does not apply to Part 107 aircraft or operations. This is because Part 107 is specifically for small UAS that do not require FAA airworthiness certification.
What does this mean for the UAS industry?
This Notice of Policy will provide some clarity and opportunity for those manufacturing UAS designed for operations beyond Part 107. Generally, many manufacturers of aircraft designed to support drone delivery have been looking for further rules and guidance to inform their operation so that they can build certified aircraft and operate under Part 135 instead of Part 107. 
What makes this interesting is that Type Certification of UAS and/or its components, ultimately, should make it quicker and easier to get FAA approval for future aircraft. It is likely that the industry will see a variety of type certifications of new aircraft and components in the coming years from many different companies. 
Widespread drone delivery at scale will need type certificated aircraft. Part 107 was developed with small UAS in mind, so it is limited in the operations you can do, even with a waiver. The aircraft powering drone delivery are going to need more capabilities with better cargo capacity as many will weigh more than 55 pounds and need to operate routinely Beyond Visual Line of Sight in a largely automated fashion. Aircraft with these characteristics require a higher level of safety, more redundancies, and more analysis of the airframe and components in order to be certificated.
Ultimately, type certification will not only bring confidence to UAS manufacturers and operators but also will bring confidence to the general public that the drones flying overhead conducting deliveries are FAA-certified to be safely designed.
---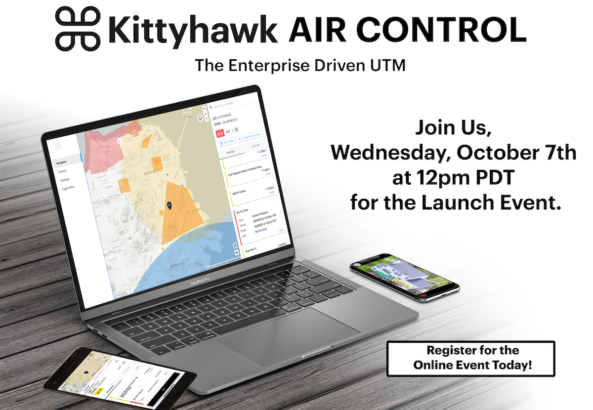 We are very excited to announce the launch of Kittyhawk Air Control this week! Join us on Wednesday, October 7th at 12 pm PDT for our virtual launch event to learn more about Air Control and Kittyhawk's vision for Enterprise UTM.
Register for the event here or click on the image.
---

Andrew Elefant is the Director of Legal & Policy at Aloft, an enterprise drone software company. Andrew is a licensed attorney in California. He is also an experienced Private Pilot with Instrument and Multi-Engine ratings, as well as a certificated Remote Pilot.
Sign-up for our newsletter
You may be interested also in