Enabling Compliant Operations, Globally
As rewarding as it is to fly, one of our underlying goals with Kittyhawk is to help you fly safely and compliantly. We help do this with Kittyhawk PREFLIGHT, providing weather and airspace details. We help do this with robust checklists (including our open-sourced community checklists). We also help do this by helping both hobbyist and commercial pilots 'carry' their FAA credentials directly in the Kittyhawk app.
For our many international pilots, we have more localized versions coming soon. So far Canada and Australia have been the noisiest, but if you live somewhere and want to see Kittyhawk support your country and local regulations, just reply to this email and let us know. Your emails truly affect our product roadmap and prioritizing.
For those in the US, we're just as excited as you are about FAA Part 107 (and the entire Kittyhawk team has now passed the exam :). We know how important this test is and what it can enable, so this month we're excited to work with David Young from DroneLaunchAcademy.com who has shared some tips on some of the most frequently missed questions on the exam.
---
Inside Part 107
Hey Everyone,
David Young here with DroneLaunchAcademy.com. Some of you are likely interested in obtaining your FAA Remote Pilot Certificate so you can fly drones for commercial purposes. To get your remote pilot certificate, the main thing you need to do is pass the FAA's Unmanned Aircraft exam (sometimes referred to as the "Part 107 exam"). It's a 60 question multiple choice test that covers areas like airspace, weather, regulation, and other topics relevant to drone operations.
Some of the most missed questions on the exam are the ones that deal with with reading aeronautical charts, determining what type of airspace the proposed flight area is in, and determining if a drone pilot would be allowed to fly there.
So to give you a better chance on test day, let's take a look at a sample question that might be similar to what you'd see on the exam.
Sample Question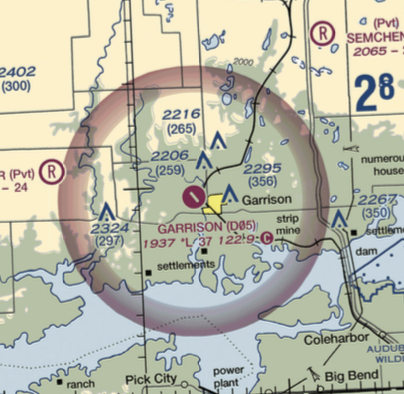 The FAA might ask you something like:
[Refer to the sectional chart excerpt.] If you are flying your uncrewed aircraft at the maximum allowable altitude over the tower that is directly to the East of Garrison (D05) airport, what airspace would you be flying in and would you need prior authorization before flying there?
The student needs to know a few things to answer this question. How do I know where the towers are? By looking at the chart, how do I tell what type of airspace I'm in? What are the rules around altitude limits? What are the rules around airspace authorization requirements?
Reading the Sectional Chart
One of the most helpful, but often overlooked, tools that the FAA provides to you on test day is the sectional chart legend. It looks like this…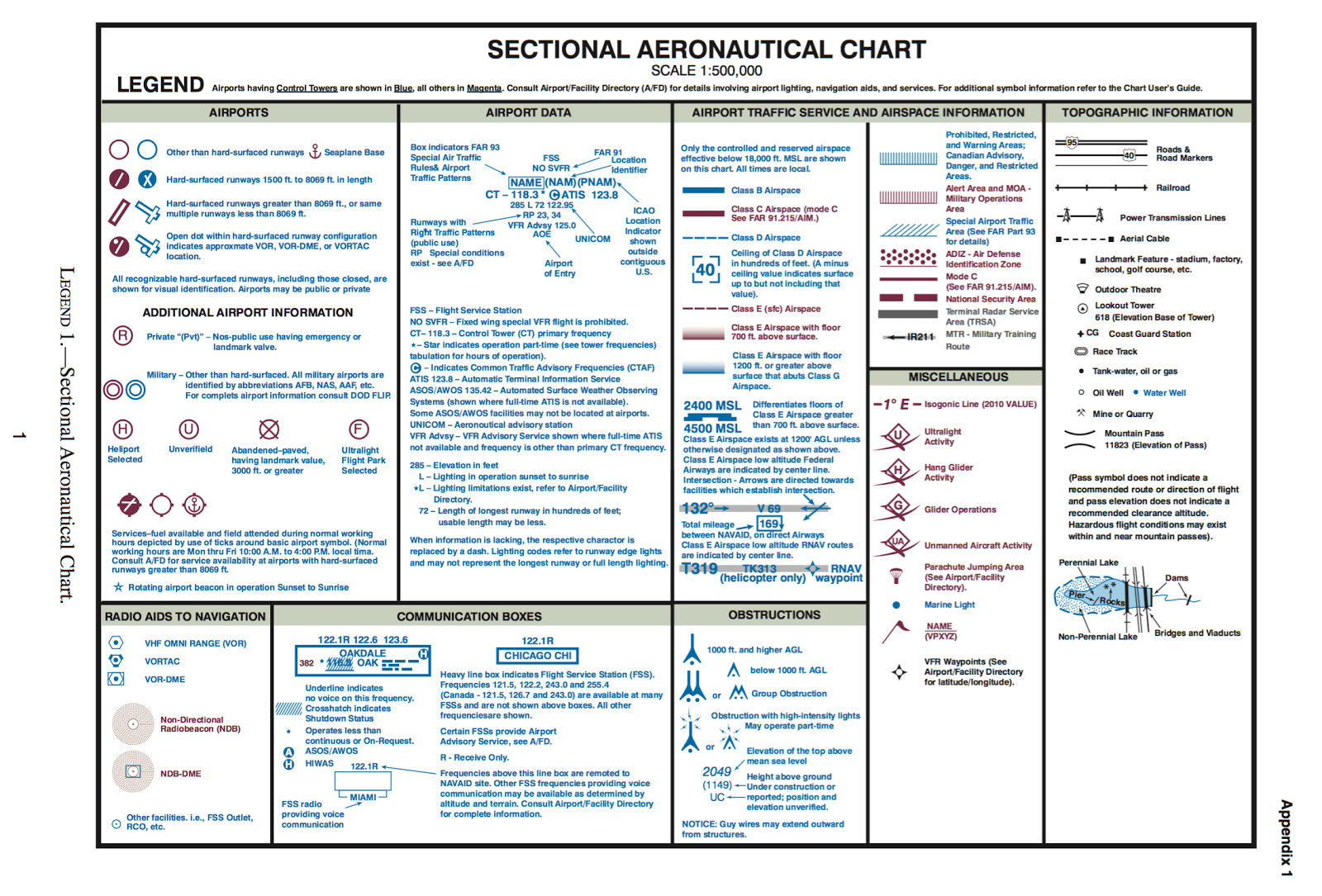 The legend will tell you what the different airspace markings look like and will tell you what "obstructions" (aka structures/towers) look like.
We can see from the legend that obstructions less than 1,000 feet high are noted by a symbol that looks like a tent with a dot inside, and that the height of the obstruction is listed in sea level and, in parentheses, above ground level.

In our scenario, we are looking at the tower directly to the east of Garrison airport, which is 356 feet above ground level (look at the number in the parentheses).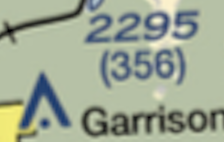 If we take another look at the legend, it also tells us what the airspace markings on the sectional chart look like. If you look at Garrison airport, you can see a shaded magenta ring surrounding the airport. The legend tells us that a shaded magenta area is Class E airspace from 700 feet above ground level and up.
Now that we have those two pieces of information, we can move on to look at altitude limits and airspace authorization rules.
Altitude Limits
Part 107 (the rule that governs commercial drone ops), says that a drone operator can fly up to 400 feet above ground level or 400 feet above a structure. So if a structure is 200 feet high, you can fly a drone up to 600 feet above ground level if you are directly over the structure.
In the question above, we are told that we would be flying the maximum altitude above the structure directly to the East of Garrison Airport. We previously determined that the structure was 356 feet above ground level. If we were going fly 400 feet above the structure, we would be flying at 756 feet above ground level.
Airspace Restrictions
Part 107 also says that a drone pilot is required to have prior authorization from the FAA before conducting drone operations in controlled airspace (Class B, C, D, and E airspace). We previously determined that the shaded magenta circle around Garrison airport indicates Class E airspace from 700 feet above ground level and upwards.
Bringing It All Together
We know that in the scenario the question proposes, we would be flying at 756 feet above ground level (356 feet for the tower height plus 400 feet allowed above that). We also know that the tower is within the Class E airspace ring, and the Class E airspace begins at 700 feet above ground level. So if we were flying a drone at 756 feet, we would be in the Class E airspace. From looking at Part 107, we know that we WOULD be required to have prior authorization from the FAA before operating in that airspace.
So there you have it. You are now one step closer to getting your Remote Pilot Certificate! Happy flying.
-David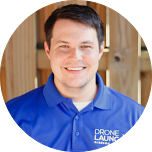 David Young is the founder of Drone Launch, a business focused on giving people the knowledge and tools they need to safely and profitably use drones for business. Find out more at DroneLaunchAcademy.com and DroneLaunchAccounting.com. He can be reached by email at david.young@dronelaunch.co or on Twitter or Instagram at @dronelaunch.
---
The Year Ahead
As much new code and as many new features that we added to Kittyhawk in 2016, the coming year is going to put that to shame. We're moving faster than ever to build the most amazing, robust, reliable, and innovative platform for drone operations.
Please continue to send your texts and emails. We love hearing from you and are thankful to have this elite community of drone pilots who are helping to move the platform forward in very cool ways.
Happy flying,
Jon, Josh & Team Kittyhawk
---

Kittyhawk unifies the mission, aircraft, and data to empower safe and effective enterprise drone operations.
Sign-up for our newsletter
You may be interested also in