Drones and Non-Federal Lands
This blog post is the next in a series of posts designed to cut through some of the confusion about where you are legally allowed to operate as a commercial or recreational UAS operator. Even if you've used B4UFLY or Kittyhawk and it looks like the airspace where you want to operate is good to go, "Can I actually fly there?" is not as easy of a question to answer as it should be. This post aims to make it easier to answer that question and share some actionable information on how to operate in a variety of different locations.
After earlier posts discussed how to operate UAS in or near some types of federal land and the role of state and local laws on drone operations, this post is focused on non-federal land like state, regional, or city parks. A slightly oversimplified takeaway message from these earlier posts is that the FAA regulates airspace, but state and local laws apply on the ground. This is why you may see on your airspace app that the airspace is clear to fly but there may be additional state and/or local laws that prevent you from launching or landing from specific areas on the ground.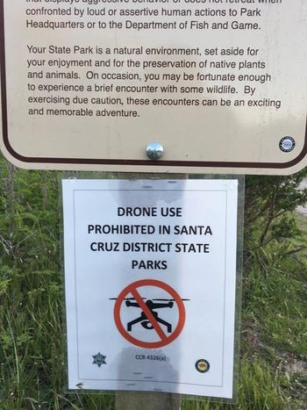 Common Limitations on sUAS in State Parks
A complicating factor in determining whether or not you can fly sUAS from parks is that the rules vary from state to state and even park to park. Many states allow UAVs  to operate in their state parks with limitations and/or permits, but the information can be difficult to find or confusing to apply. 
California and Washington State are good examples of states that have commonly found limitations on sUAS operations in their parks. On their websites, both California and Washington State generally allow RC aircraft or UAS to operate in their state parks. In practice, due to many restrictions and requirements, and the power granted to local park management, it is either not allowed or not easy to operate UAS in these parks.
Recreational Operations in State Parks
If you're thinking of flying at a state park, the best place to start is usually the website of the parks system. When available, this often has the most recent and relevant information, and is the most accessible. You should attempt to find out what type of park it is and what activities are allowed, and seek out any specific information about flying sUAS.  This is also where you're likely to find contact information to call or email to ask questions or to seek the appropriate permits or permission if required.
If you are already at the park, the best place to look for information is near any posted orders, such as those regarding park safety, fires, other activities, maps, and other information. These are frequently located at trailheads or parking lots near parks. Remember, all FAA UAS rules still apply for recreational operations and commercial operations. 
Lastly, keep in mind that parks regulating UAS may have good reasons for doing so, including protecting wildlife, lowering the risk of fires, or to limiting risk from UAS operating near people or other recreational activities.
Commercial Operations in State Parks
One complicating factor for commercial operations is that many state parks have rules that require a permit for any commercial operation (and sometimes recreational). Additionally, many state parks systems use a similarly broad interpretation of the word "commercial" that the FAA uses. A good rule of thumb is that if the FAA would consider an operation as a Part 107 operation, the state park probably will as well. 
Many state parks systems require permits for any commercial UAS operations occurring on their property. Since it is particularly important that commercial operations operate compliantly, it is important to fully understand and comply with regulations requiring permits. Also, the permit process may be slow, so it is best to plan ahead and communicate with the authorities at the park where you plan to operate.
Is there a better way?
Generally, recreational operators are looking for somewhere interesting to fly and parks are attractive for a variety of reasons. Airspace applications like B4UFLY and Kittyhawk give valuable situational awareness of the user's airspace but many UAS operators don't know exactly where they can fly legally, and many are unaware of any restrictions on UAS by entities besides the FAA. 
If you are a drone operator: In addition to being a responsible UAS operator, a good practice is to communicate with whoever manages the park or area where you'd like to fly. Starting a dialogue with park management can be helpful to understand the rules for commercial or recreational UAS operation and understand how you might be able to fly without disturbing anyone. Also, you can encourage parks to allocate certain areas for UAS operations, make more information accessible to the public, and streamline the process for permitting if required. Collaborating with park management instead of ignoring or antagonizing them is going to be a better long-term strategy.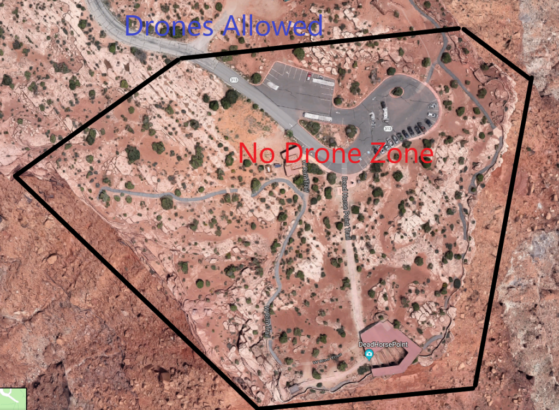 If you are a parks system: Some parks systems have taken small steps that make it easier to operate. Usually, these are steps that make it easier for UAS operators to find the information they need, and the restrictions on UAS are more reasonable than other places. For example, for at least some of their state parks, Utah shows UAS rules online which are specific to individual parks and has an online PDF permit that can be filled out electronically. They also provide maps where there are clear areas where UAS are allowed and not allowed, and allow more area to operate during quieter months of the year. Alaska even has an interactive map with some state and federal parks included along with airspace and airports. 
One way that our user community and other stakeholders can help make it easier to operate in or near parks is to make information more widely available. One way our user community can help is to help make B4UFLY more information-rich by letting us know about specific areas where increased situational awareness would be helpful. If you're an sUAS operator, a government agency, a public safety agency, or other interested stakeholder, we would like to hear from you.
Sign-up for our newsletter
You may be interested also in