Read these easy steps on how to renew your FAA drone registration today.



As you most likely already know, uncrewed Aircraft Systems (UAS or drones) must be registered with the FAA. When registering your drone, you must select to register either under part 107 or the Exception for Recreational Flyers. If you are not sure what kind of a drone flyer you are, check out the FAA's User Identification Tool or read more below.
Who needs to register their drone?
All drones must be registered, except those that weigh .55 pounds or less (less than 250 grams) and are flown exclusively under the

Exception for Recreational Flyers

.

Drones registered under part 107 may be flown for recreational purposes as well as under part 107.

Drones registered under the Exception for Recreational Flyers cannot be flown for Part 107 operations.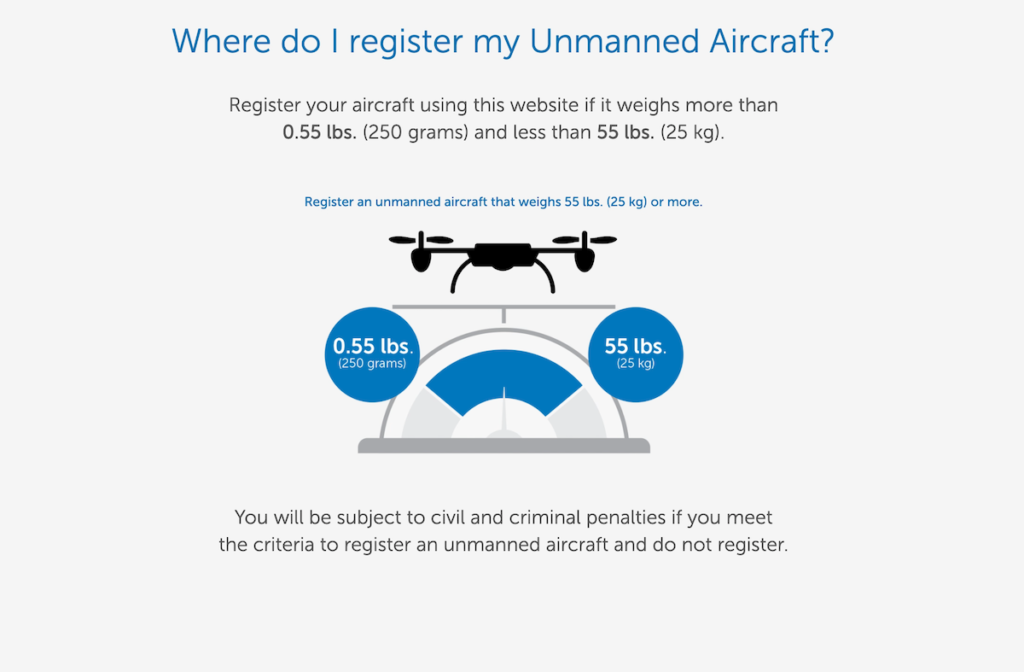 Part 107 registration costs $5 per drone and is valid for three (3) years. The Exception for Recreational Flyers registration costs $5 and is valid for three (3) years. The registration number you receive is for use on all drones that you own and intend on using for recreational flying only. Once registered, drone registration cannot be transferred between the types (part 107 or the Exception for Recreational Flyers) without an additional $5 fee.
---
Tips for Renewing Expiring Drone Registration
Here are a few tips to make your registration renewal process simple and effective.
1. Renew your drone registration before the expiration date
Even if your registration doesn't expire for another week or two, you can renew the registration now and the renewal date will reflect a three-year period from the original date you registered the drone on. For example, I registered my Phantom 4 drone originally on December 15th, 2017 and the registration expired on December 15th, 2020. I renewed the registration before the expiration date but the new expiration date is still December 15th, 2023 as seen in the image below. To maintain FAA compliance, it's important to make sure your drone registration does not lapse so get the renewal process out of the way sooner rather than later.

2. Clearly mark your drone with your registration number
Remember, you must mark each aircraft with the assigned unique registration number before it is operated. Since this is a renewal, your aircraft should already be marked with the registration number but if you have not make sure to do so before commencing operations with the aircraft. You can simply use a label maker or handwrite the registration number and adhere to the drone body with heavy-duty tape as you can see I've done. Make sure to place the marking in a visible location that does not interfere with the functionality of the drone.

3. Store a digital copy of your renewed drone registration on the Aloft (formerly Kittyhawk) app for easy access in the field
Once you've renewed the registration for your drone, you can download a copy of your FAA registration certificate from the DroneZone under 'Inventory'. You must have your registration certificate (either a paper copy or digital copy) in your possession when you fly. If another individual operates your drone, they must have your drone registration certificate (either a paper or digital copy) in their possession. Federal law requires drone operators who are required to register, to show their certificate of registration to any Federal, State, or local law enforcement officer if asked. I recommend storing a digital copy for each of your drone registration certificates in the 'Documents' selection of the Aloft app. See below for how to add your drone registration certificates to the Aloft app.
From the Part 107 Dashboard, navigate to your inventory by clicking the 'Manage sUas Inventory' button.

Click on the registration # in blue on the drone you'd like to download the registration certificate for and then from the new window download the pdf of the registration certificate.

Navigate to

https://app.www.aloft.ai/

, login, click on 'Documents' under the 'Media' section and then click 'Add Document' in the top right-hand corner.

Then name your file something like 'DJI Phantom 4 Drone Registration', upload the pdf of the registration certificate, and click 'Save'.

Now your drone registration certificates can be accessed at any time through the Aloft app.
---
Remember, failure to register a drone that requires registration may result in regulatory and criminal penalties. The FAA may assess civil penalties up to $27,500. Criminal penalties include fines of up to $250,000 and/or imprisonment for up to three (3) years. Do your part to keep the skies safe and your operations FAA-compliant by renewing your registration prior to the expiration date. If you have any questions feel free to reach out to me at erica@aloft.ai.
---

Erica Cooley is Aloft's Head of Community, she's responsible for connecting with the expanding drone community to provide educational opportunities on how to leverage technology to fly with compliance and safety. Erica is an FAA-certified Part 107 Remote Pilot since 2017. Her passion for gender and diversity inclusion in the UAS industry is demonstrated as a proud member of Women and Drones & a brand ambassador for Women Who Drone. She is also an FAA Safety Team Representative in the Seattle, WA area. Erica received her BA from the University of Puget Sound in Communication Studies.
Sign-up for our newsletter
You may be interested also in