Flight Restrictions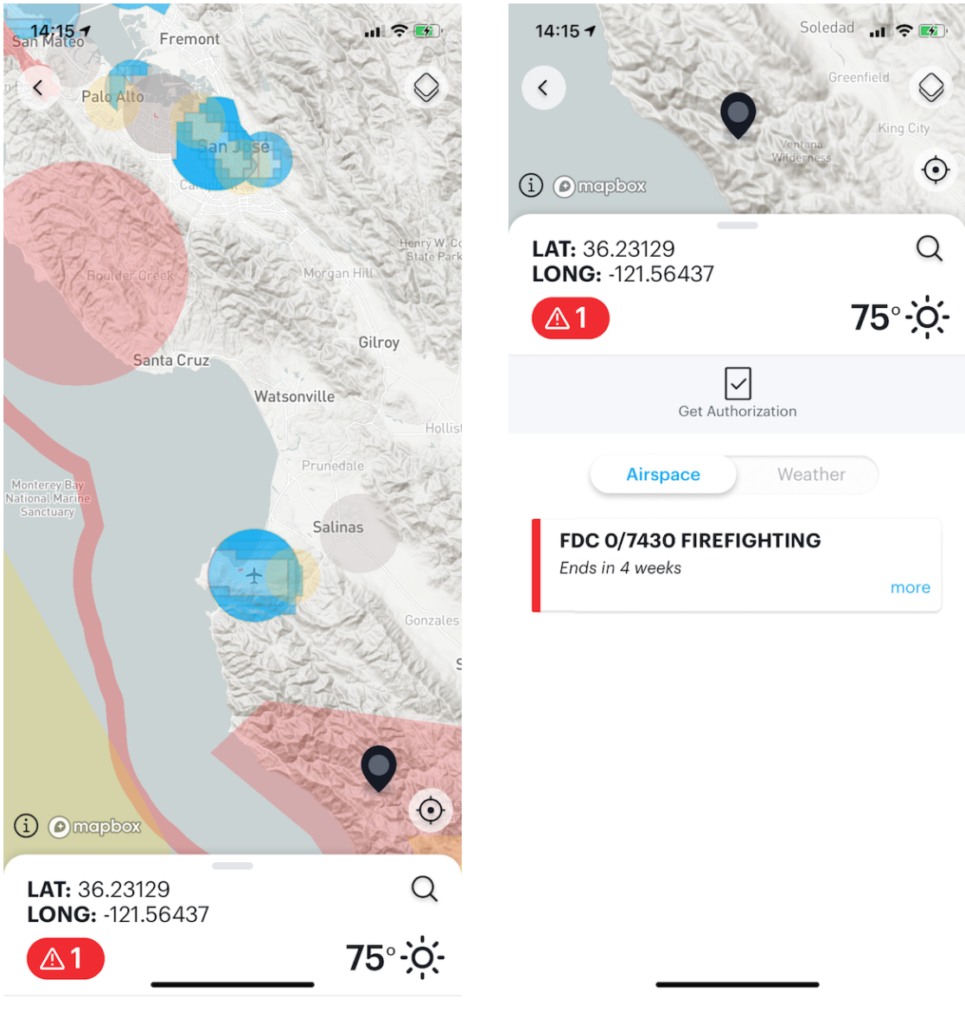 Airspace is one of the most important areas of knowledge a drone operator needs in order to fly safely. For Part 107 operators, the FAA requires you to know about "Airspace classification, operating requirements, and flight restrictions affecting small uncrewed aircraft operation" for the initial and recurrent exams. Recreational operators fly under the same rules. 
Of the three, flight restrictions affecting UAS are most likely to be overlooked or confusing to operators, in part because there are so many different types of restrictions. Many flight restricted areas like Prohibited Areas and Restricted Areas hardly ever change and are listed on sectional maps. However, Temporary Flight Restrictions (TFRs) contain more variables in terms of how they are created, how long they last, the time of day they are active, etc. 
Between TFRs for wildfires, hurricanes, sports stadiums, and critical infrastructure, there are a lot of questions about TFRs and how they affect UAS operations. Hopefully, this blog post gives you additional information on some common TFRs and how to find more information about TFRs in order to fly safely.
What are TFRs and how are they made?
TFRs are temporary flight restrictions for aircraft operating in the national airspace system. Some of the common reasons that TFRs are issued include large sporting events, disasters, and the security of sensitive locations and VIPs. Many TFRs are issued under Part 91 of the FAA regulations and apply to UAS as well as traditional crewed aircraft, like sporting events, disasters, and security TFRs. Additionally, some TFRs are issued under Part 99.7 of the FAA regulations and apply specifically to UAS, usually to protect sensitive security areas where a low-flying UAV might be a security risk. 
TFRs correspond to NOTAMs. These are described by the FAA as notices containing information that is essential to personnel concerned with flight operations but that is not known far enough in advance to be publicized by other means. Checking for relevant NOTAMs is something every commercial or private pilot does before every flight and finding this information is an important practice for UAS operations. You can find more information on these three types of TFRs at the FAA's TFR page and visually in the Kittyhawk and B4UFLY apps.
National Security UAS Flight Restrictions (NSUFRs)
As mentioned above, the National Security UAS Flight Restrictions are important TFRs that cover sensitive security locations, usually belonging to the Dept. of Energy or Dept. of Defense. NOTAM FDC 9/3817 describes the type of restrictions (Avoid flying 3000 ft laterally and 1000 feet above DoE and DoD facilities and mobile assets) and the consequences (DOJ, DOD, or DHS can seize or destroy your UAV). Importantly, the NOTAM directs you where to go to find the specific locations and see them visually: The FAA's UAS Data Delivery System, specifically the page depicting these NSUFRs. The easiest way to find this information is through the Kittyhawk and B4UFLY apps.
Stadium TFRs
Many UAS operators are aware that TFRs are issued for major sporting events (e.g. NFL, MLB, NASCAR, Division 1 football). FDC NOTAM 0/0367 contains the details of these restrictions and what types of events are covered, but generally, it prohibits flights by all aircraft within a 3 nautical mile radius of a stadium that has a capacity of 30,000 or more people from one hour before the event is scheduled to start until 1 hour after the event finishes. Even though some of the sports leagues are playing without fans present,  the stadium TFR is based on venue capacity, not the number of people attending.
Wildfire TFRs
With most of the West Coast suffering from catastrophic wildfires in 2020, it is even more important to be aware of the rules prohibiting operating UAS around wildfires. The FAA has official information on Drones & Wildfires, but the basic answer is that if you are not a first responder, do not fly a UAV anywhere near a fire, firefighting aircraft, or anywhere it might interfere with firefighting efforts. 
TFRs are issued for fires or to aid firefighting efforts, but sometimes they may not be issued as fast as a fire is growing. If a fire has become large enough for a TFR to be issued, that data should be clearly visible in Kittyhawk and B4UFLY, but just because a TFR hasn't been issued yet does not mean it is safe to fly. Other good sources of information to learn about local fire conditions include your state or county's Fire Protection agency like Cal Fire or Oregon's Dept. of Forestry. 
If you are a first responder looking to operate within the TFR, you can apply for a waiver using the FAA's SGI process for emergency situations.
---
*Reminder*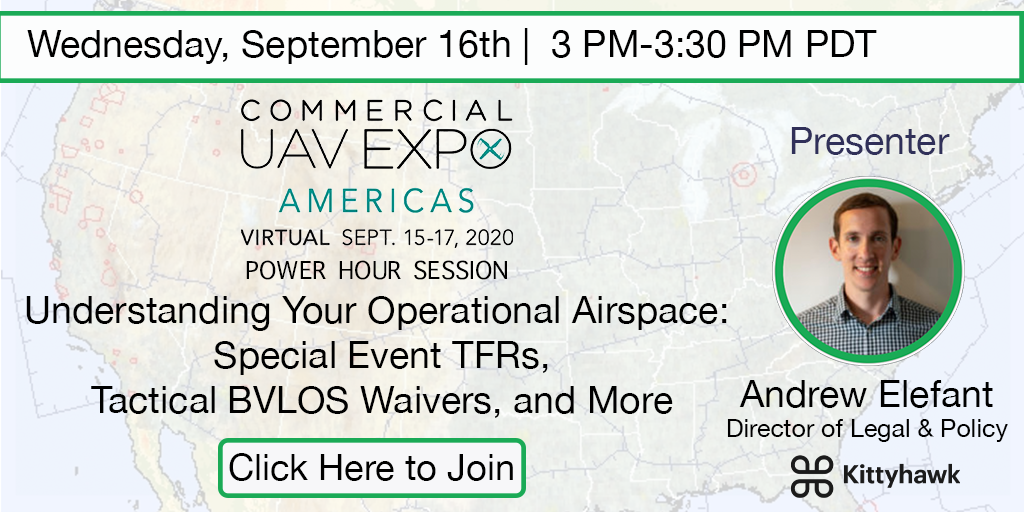 Join me at Kittyhawk's virtual booth at Commercial UAV Expo during the Power Hour sessions on Wednesday, September 16th from 3:00 PM – 3:30 PM PDT to discuss how to better understand your operational airspace, including special event TFRs, tactical BVLOS waivers, and more.
---
---

Andrew Elefant is the Director of Legal & Policy at Aloft, an enterprise drone software company. Andrew is a licensed attorney in California. He is also an experienced Private Pilot with Instrument and Multi-Engine ratings, as well as a certificated Remote Pilot.
Sign-up for our newsletter
You may be interested also in