Did you receive a drone as a present this past holiday season? Here are the required steps to flying a drone safely and compliantly in the national airspace system.
Happy New Year from the Aloft Team!
To kickoff 2023, we are excited to announce the launch of Season 2 of our B4UFLY Check the Map educational webinar and podcast series. Last year, we greatly enjoyed having industry expert guests on our webinars to share about the different types of airspace in the national airspace system and how each type pertains to drone operations as well as in-depth interviews with thought leaders and change makers in the UAS industry on our podcast to discuss topics like BVLOS, UTM, and UAS technology in search and rescue to name a few. Check out all the past episodes of the podcast and webinar series below.

For this new season of the B4UFLY Check the Map podcast, we will be launching monthly podcast episodes to discuss drone airspace challenge areas, situational awareness topics, and general UAS operational questions from members of the Aloft community. Today's Aloft community question comes from Mike T. :
"I received a drone for Christmas and am really excited to start learning how to fly for fun and maybe eventually use it to take aerial photos and videos for businesses if I get good enough. Could you share some first steps I need to take to start flying legally with the FAA?"
Like Mike, if you received a drone for the first time this past holiday season you likely are searching for information on how to fly safely and compliantly in the national airspace system. Like most first time drone operators, I am sure you are eager to take your drone to the skies to begin practicing your flying skills. But before leaving the ground, read the steps below to educate yourself on the rules and precautions to take to ensure your first drone flight is fun, safe and compliant.
First question you need to answer is: What would you like to do with your drone?
If you are looking to learn to fly a drone for enjoyment, you are a recreational drone operator and will be subject to Part 44809 Exemption of the FAA's 14 C.F.R Part 107 regulations pertaining to all drone operations in the U.S which we will go into more detail in the Recreational Drone Operators section below.
But if you would like to provide businesses or other individuals with drone services like taking aerial photos and videos of homes for sale for a real estate agency for example, you are a commercial drone operator and will need to adhere to FAA's 14 C.F.R Part 107 regulations pertaining to all drone operations in the U.S which we will go into more detail in the Commercial Drone Operators section below.
Recreational Drone Operators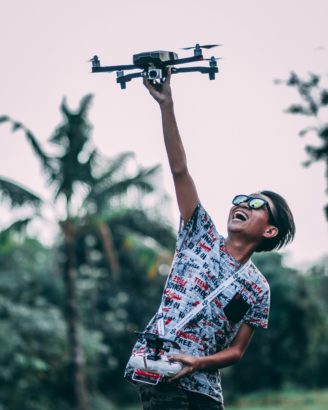 The first step to learning any new skill is education. The Recreational UAS Safety Test (or TRUST) was launched June 2021 by the FAA as a free, online, educational resource for all recreational drone operators to receive important safety and regulatory information. If you fly your drone recreationally under the Part 44809 Exception for Recreational Flyers, you must pass this test before you fly.
You may take the free online test through any of the FAA approved test administrators. All FAA-approved TRUST test administrators offer the test for free. All test questions are correctable to 100% prior to issuing your completion certificate. View a list of TRUST Test Administrators here.
After completing TRUST, you'll need to download, save or print your completion certificate. Test administrators will not keep a record of your certificate. You must present a copy of your certificate if asked by law enforcement officers.
*Tip* Store a digital copy of your TRUST certificate in the Air Control platform for easy, paperless access in the field if needed.
From TRUST, you will receive the information you need to safely and compliantly operate in the NAS. Next step, register your drone(s) in the FAA DroneZone and mark your drones on the outside with the FAA registration number, and carry proof of registration with you when flying (either in print or digitally in the Air Control app). Watch a tutorial video and read more about how to register and mark your drone here.
Lastly, before you take off for your first recreational drone flight make sure you gain situational awareness for your intended operational area. Download the FAA's mobile app, B4UFLY app on your iOS or Android and always check your intended airspace on the map before beginning operations. Remember to fly at or below 400 feet in Class G (uncontrolled) airspace and fly at or below FAA-authorized altitudes in controlled airspace (Class B, C, D, and surface Class E designated for an airport) only with prior FAA authorization by using LAANC system on the Aloft Air Control platform or DroneZone. Learn more about controlled airspace here.
Final key recreational flying requirements to remember:
Keep your drone within the visual line of sight or use a visual observer who is co-located (physically next to) and in direct communication with you.
Give way to and do not interfere with other aircraft.
Do not operate your drone in a manner that endangers the safety of the national airspace system.
Watch our past webinar with Pilot Institute's Co-founder, Greg Reverdiau for more information on getting started flying drones recreationally below.
Commercial Drone Operators
Once you have had some time flying your drone as a recreational operator, you may develop an interest in flying your drone for purposes beyond just leisure. Much like recreational drone operators, getting started as a commercial drone operator begins with education as well.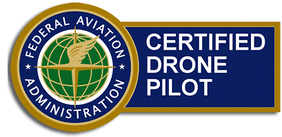 The FAA Part 107 certification is the knowledge test required for any drone operator to pass before commencing commercial drone operations in the NAS.
In order to fly your drone under the FAA's Small UAS Rule (Part 107), you must obtain a Remote Pilot Certificate from the FAA. This certificate demonstrates that you understand the regulations, operating requirements, and procedures for safely flying drones. You must be 16 years of age or older to take the FAA's aeronautical knowledge exam: "Unmanned Aircraft General – Small (UAG)". To read more about the full process of obtaining a Part 107 commercial drone license, click here to navigate to the FAA's website.
We hope you found the information covered in this blog helpful in getting started flying your drone safely and compliantly as a new recreational or commercial drone pilot. To gain more knowledge on recreational and commercial drone operator requirements, listen to our recent podcast episode discussing this Aloft community question below.

If you have a drone airspace challenge area, situational awareness topics, or general UAS operational question you would like discussed, please email your question to erica@aloft.ai. As always, fly safe and fly often.
---

Erica Cooley is Aloft's Head of Community, she's responsible for connecting with the expanding drone community to provide educational opportunities on how to leverage technology to fly with compliance and safety. Erica is an FAA-certified Part 107 Remote Pilot since 2017. Her passion for gender and diversity inclusion in the UAS industry is demonstrated as a proud member of Women and Drones & a brand ambassador for Women Who Drone. She is also an FAA Safety Team Representative in the Seattle, WA area. Erica received her BA from the University of Puget Sound in Communication Studies.
Sign-up for our newsletter
You may be interested also in